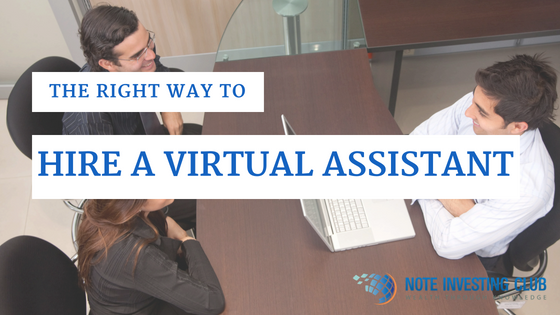 If you couldn't tell by now, we love working with virtual assistants. They help us save time, increase productivity, and ultimately help us grow our note investing business. Even after several years of working with various virtual assistants, we are blown away at how competent and eager they are to complete any task we designate to them. If you haven't read our two previous blog posts about ways you can utilize virtual assistants in your note business or what to look for when finding a virtual assistant, click on the links before reading this post. Today, I want to dive into the techniques we use to hire virtual assistants. It's a special method that we feel "weeds out" the assistants that may not work out in the long run. While our secret strategy isn't perfect,it's helped us have more success than not when hiring virtual asssitants and we feel it's the right way to hire a VA!
The Big Secret to Hiring the Right VA
Our secret to hiring the right virtual assistant is asking a "screening" question in the job post. I ask them if they are willing to submit a 30 – 60 second video or audio recording. That's it.. If they applicant responds or applies to the job post they will have to respond to the answer (or sometimes don't respond). It may not sound like much but it tells us several things about the virtual assistant.
Their willingness to do what it takes for a job.
Their attention to detail (did they even read that part of the application or skimmed it over and missed it completely)?
Their ability to wait for proper instructions (not do things without knowing what to do).
We get a variety of responses for this question. Lots of "sure's", plenty of "I prefer not to" or flat out "no's". We even get a mixture of no responses at all to the question. Either way it tells us about the personality traits and qualities of the virtual assistant that we are looking for. We weed out the answers that aren't what we're looking for (if you can guess it's the no's or don't want to) and focus on the applicants who are willing to do what it takes for the job. We then ask them to send a very basic explainer video or audio explanation on a topic of our choice and submit it to us (explaining the task should take under 1 minute). It helps us assess their verbal fluency, accent, and their ability to solve problems. They have to figure out how to record the video or audio, upload it, and share it with us (which likely involved some sort of problem solving for them). So far it's worked great for us! It's definitely not full proof and I'm sure some applicants with great experience have slipped through the cracks, but we've found some incredible virtual assistants from this process.
Reviewing Applicants
In addition to the secret ingredient above, we review each applicant's prior work experience and history in addition to reviewing their application and resume. Look for any negative reviews and assess if it's from a poor performance from the VA or if the employer is being biased about their performance because a lack of training or explanation of the task was provided.
Interviewing
Once you've narrowed down your top 3 candidates, schedule a phone or face to face interview via Skype or Google Hangouts (both free). The interview process will further allow you to assess their fluency, accent, and to get to know them better. You may come across a VA that is SUPER qualified, but you just don't "click" with. Hire a virtual assistant that you connect with. They will be working closely with you so being able to build a relationship with them is important.
During the interview ask them questions like…
"Why are you interested in my position and why do you think you are qualified?
"When is a time in a past job you had to solve a problem that was not initially explained to you?"
What is your availability to work with our company (time schedule)
What are your current resources (computers, internet, phone – if applicable)
From there, choose your favorite and offer them the job! It's as simple as that! It's almost guaranteed you will have to provide your new assistant with some sort of training or clear expectations on what their tasks will be. That process can be quiet involved depending on the task you are outsourcing and is what we'll writing in our next post, so stay tuned!